ACTIVITIES AND FACILITIES
THE GROUP'S ACTIVITIES
We work with passion and dedication in various interconnected sectors:
THE MILLING SECTOR
Our Group is distinguished by its high production capacity distributed across 14 milling plants throughout Italy. All of our products are the result of the synergy of two fundamental factors: the choice of the best raw materials, which allow us to supply semolina and flour that perfectly meet customer requirements, and the high technology of the production process.
CEREAL TRADING AND STORAGE
The high levels of efficiency and an excellent reputation in international procurement markets allow our Group to purchase all types of grains produced, as well as other agricultural commodities, in various areas of the world. Our cereal storage activity allows us to purchase large quantities of cereals to be managed over time, maintaining constant quality standards at all stages.
RETAIL
With our Molino Casillo brand, we produce and package the highest quality products for both the retail market and the professional world. The innovative approach based on the valuable work of our Research and Development department and a solid sales organisation that operates via physical and digital platforms, allow us to respond to every need and ensure an excellent result in every sector.
REAL ESTATE
The Casillo group has been launching a series of initiatives over the last few years to diversity its activity, while maintaining the principles and values that have always inspired it. One of the most significant of these initiatives is real estate development, mainly focused on Milan and Bari, involving prestige locations and high quality design solutions, inspired by the most advanced standards of efficiency, safety, comfort and sustainability.
RENEWABLE ENERGY
Given from its own energy-intensive needs, the Casillo Group has over the years become one of the players in Italian renewable energy sector. It is currently engaged in the development of new plants, both to serve its industrial factories and to sell energy to the market, as well as in the revamping its existing plants in order to maximise efficiency and performance. The projects currently under development involve the production of energy from photovoltaic sources and solid biomass.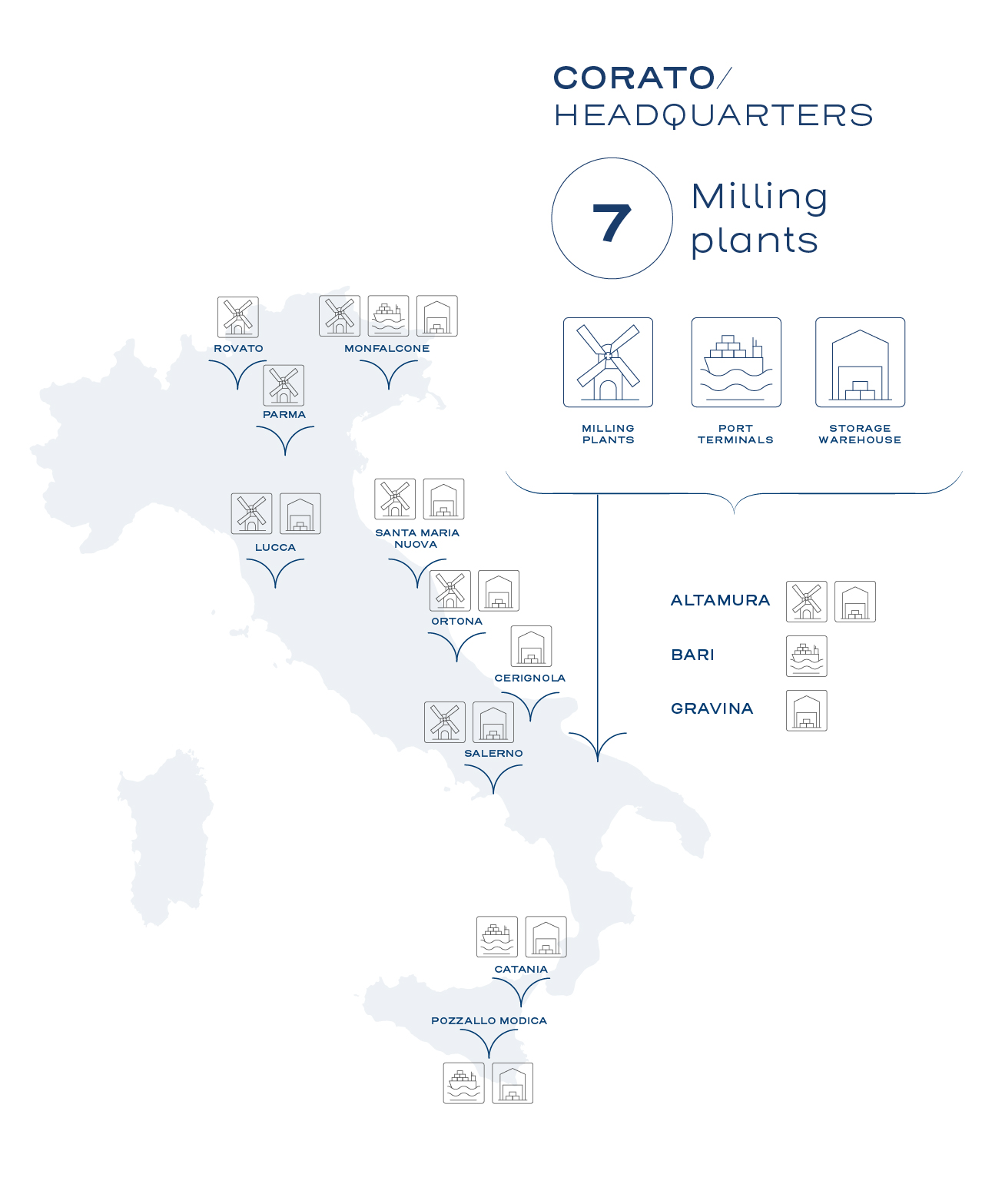 CORATO/HEADQUARTERS
- 7 milling plants
- Storage warehouse
- Commercial platform
- Trading company
ALTAMURA
- Milling plants
- Storage warehouse
GRAVINA
- Storage warehouse
CATANIA
- Port terminals
- Storage warehouse
SALERNO
- Milling plants
- Storage warehouse
POZZALLO MODICA
- Milling plants
- Storage warehouse
ORTONA
- Milling plants
- Storage warehouse
CERIGNOLA
- Storage warehouse
SANTA MARIA NUOVA
- Milling plants
- Storage warehouse
LUCCA
- Milling plants
- Storage warehouse
MONFALCONE
- Port terminals
- Milling plants
- Storage warehouse